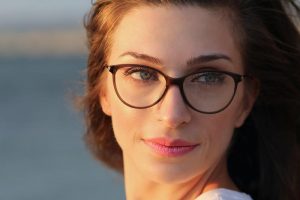 Besides choosing your frames, there are many different options when it comes to picking out your lens. However, we are here to help you through the whole process so that you can have the glasses that you need.
Crizal brand Anti reflective lenses: Crizal No-Glare lenses give you the clearest vision possible, so you're ready for whatever comes your way-glare, scratches, smudges, and even UV light.
Varilux Progressives: #1 PROGRESSIVE LENS BRAND Varilux® progressive lenses provide sharp vision at every distance-even in dimly lit conditions-eliminating the blurriness and low-light issues of ordinary progressive lenses.
Eyezen: Eyezen enhanced single vision lenses are designed for the way you see the world, reducing strain from viewing· digital devices. These computer glasses also filter blue-violet light, helping to keep your eyes protected and comfortable, even on your most digital days.
Transitions Brand Photochromatic lenses: Transitions Light Intelligent Lenses fit every lifestyle and every age. Not only do they adjust from fully clear indoors to the perfect tint outdoors, but they also block dangerous UV rays and filter Harmful Blue Light, which can be found outdoors and from digital devices.
Xperio sunglasses: Xperio UV™ polarized prescription sunglasses aren't just ordinary sun lenses. They help you see more no matter what you're doing outside, providing excellent clarity of vision all while protecting your eyes with a superior quality lens.
Truclear: TruClear® lenses use the latest progressive no-line design technology to provide clear vision. TruClear lenses take into account the patient's frame selection and eye anatomy so the far (distance and driving), near (reading) and intermediate (computer and dashboard) visual zones provided by the lenses are wider and allow for easy transition. You will find that TruClear lenses are easy to adapt to and provide clear, comfortable vision. These lenses are available exclusively to Vision Source Eyecare Professionals, so only Webb Eyecare sells them locally.
Viso Antireflective: VISO lenses offer great clarity and durability. Your eyes are subjected to harsh glare from windows, computer screens and fluorescent lighting on a daily basis. Tired, itchy, watery and burning eyes along with-blurred vision and headaches result from glare. Viso lenses reduce glare so you can see more comfortably and clearly. They also offer the latest in anti-static and anti-smudge technologies so your lenses: are easier to clean and keep clean. Vision lenses are also only available from your Vision Source Eyecare Professional.